With the Academy Awards Sunday the time seems right to count off my 12 favorite movies from last year. Why 12? Because 10 was not enough. I choose the word favorite over best because I haven't seen every film of 2008 and I don't presume to have seen only the best.
"The Bank Job"
This taut little thriller based on London's Walkie Talkie Robbery in 1971 is a straightforward genre film told extremely well. This isn't a breezy romp like the "Ocean" movies; instead "The Bank Job" is a throwback to the gritty British crime films of the era in which it is set. The film proves that its star, Jason Statham, can act when given the right material, unfortunately he usually wastes his talents in schlocky action films.
"The Dark Knight"
Writer/director Christopher Nolan's follow up to "Batman Begins" expands the film from its comic book origins into a fully realized crime epic and deepens and enriches previously presented themes. The film is fueled by the late Heath Ledger's extraordinary performance as the Joker but is populated by strong performances by Christian Bale in the title role, Michael Caine, Gary Oldman, Morgan Freeman, Aaron Eckhart and Maggie Gyllenhaal.
"Forgetting Sarah Marshall"
The latest raunchy romantic comedy from the Judd Apatow-factory stays true to the template of blending crass humor with surprising tenderness. When Jason Segal ("How I Met Your Mother") is dumped by the title character (Kristen Bell) he heads to Hawaii to try to escape only to run into her with her new rock star lover (Russell Brand). A familiar plot is enlivened by an assortment of funny supporting performances and sharp writing by Segal.
"Frost/Nixon"
This compelling behind-the-scenes account of the lead up to the historic David Frost (Michael Sheen) interview with Richard Nixon (Frank Langella), in which Frost was able to get Nixon to admit to his involvement in Watergate captures the significance of a major television event, but also satisfies as a piece of drama. Ron Howard's direction is clean and elegant and Langella's Nixon is so much more than mere impersonation. He manages to capture something deeper.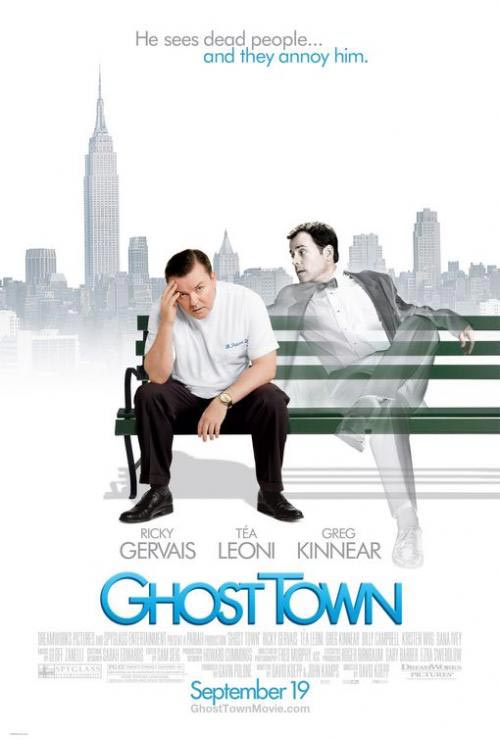 "Ghost Town"
A misanthropic dentist (Ricky Gervais) is given the ability to see dead people in this charmingly low-key romantic comedy. One persistent spirit (Greg Kinnear) wants Gervais to break up the pending marriage of his widow (Téa Leoni). Gervais, the star of the original "Office," is known for his snarky humor, but here he reveals a sweet side. Writer/director David Koepp, who is known for thrillers, shows a deft hand for light comedy and the cast is in top form.
"In Bruges"
Two hit men (Colin Farrell and Brendan Gleeson) are sent to Belgium after a botched hit in this unique reworking of tired clichés. This isn't your typical buddy film or action packed assassin film. There is quiet, poetic beauty throughout the film, which blends a dark, off-beat sense of humor with more serious philosophical questions. The two leads are excellent and a late movie appearance by Ralph Fiennes is fantastic.
"Iron Man"
2008 was a good year for the superhero movie. While "The Dark Knight" took the genre to new levels of sophistication, "Iron Man" is simply a well-crafted film that takes the time to create well-drawn characters and a basis in reality, however tenuous it may be. Robert Downey Jr. is pitch perfect as a playboy billionaire turned hero and he is ably supported by Gwyneth Paltrow, Jeff Bridges and Terrence Howard.
"Milk"
Gus Van Sant's chronicling of Harvey Milk's (Sean Penn) political career as California's first openly gay elected official is an important and relevant film as the issue of one's sexuality is still a hot topic. The film addresses the issue in a way that is not heavy handed nor manipulative and does so with humor and heart. Penn gives a nuanced performance and he is surrounded by a wonderful supporting cast including Emile Hirsh, James Franco and Josh Brolin.
"Slumdog Millionaire"
Danny Boyle's "Slumdog Millionaire" centers on how a teen (Dev Patel) from the slums of Mumbai wins India's "Who Wants to Be a Millionaire." The film blends hard to watch scenes with a feel-good story that emotionally resonates. Boyle keeps things moving along at the pace of a thriller, but stays focused on the humanity of the story. Cleverly structured, imaginatively directed and well acted.
"The Visitor"
Richard Jenkins stars as a quiet, withdrawn college professor that discovers illegal immigrants are living in an apartment he keeps in New York. Through music he bonds with the immigrants. This is an important film for putting a face on the immigration issue, but it is also one of the most human stories of 2008. Writer/director Thomas McCarthy doesn't offer easier answers; rather he presents a film filled with warmth, compassion and a sense of joy.
"WALL-E"
The most strikingly original animated film since, well, Pixar's last release, "WALL-E" doesn't pander to children and instead respects their intelligence. Much of the first half of the film is essentially a silent film. In the future, Earth has been left trashed by humanity which now resides in a giant spaceship. The titular robot is left to clean up the mess. The film morphs into a rather sweet robot love story that is more involving than some human love stores.
"The Wrestler"
Given his falling out with Hollywood, it isn't surprising that Mickey Rourke would be drawn to the story of a former professional wrestler who is just barely living above the bottom of the barrel. What is shocking is how dramatically involving the film is given the wrestling subject matter. You don't need to be a fan to appreciate this film. This is an emotionally raw film powered by Rourke's born-to-play performance.