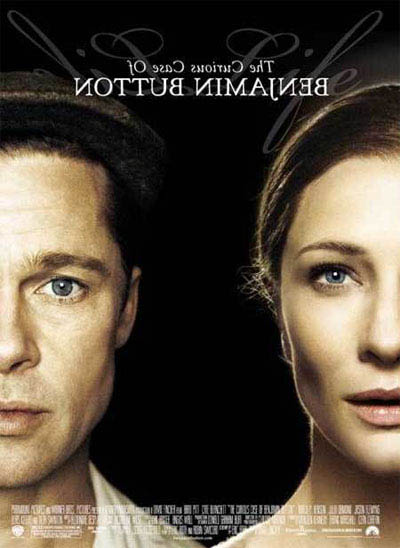 "The Curious Case of Benjamin Button," loosely based on a short story by F. Scott Fitzgerald, is a visually exquisite fantasy about a man born old and who grows younger.
Where the story it was based on was a farce, the film is sober meditation on the process of living and a tragic love story. That makes the film seem awfully bleak. It isn't. There are flashes of humor in the screenplay by Eric Roth that keep the film from being a complete downer.
Roth has written the scripts for "Munich," "Ali" and "The Insider" among other films, but his most relevant work in connection with "Benjamin Button" is his adaptation of "Forrest Gump." Both films focus on the life of one man, the people he encounters and ultimately the woman he loves.
The film is long — it clocks in at nearly three hours — and is slow. In a lot of cases these could be seen as criticisms, and for some people they will be negatives for the film, but patient viewers will be rewarded for their time. You want to spend time with the film's characters. As the film came to its conclusion, in spite of the length, I didn't want it to end.
Benjamin Button is born a wrinkled infant with all the ailments of a not-well elderly man. As a child he is a wheelchair bound 80-year-old man. Early in the film Benjamin meets Daisy, a young girl around his true age that intrinsically can sense that he is not as old as he looks.
This sets up the film's central love story as the two characters go their separate ways until they "meet in the middle" of their lives. Except for scenes where Benjamin is an infant and a child, Brad Pitt stars as the title character. Cate Blanchett stars as the adult Daisy. Both actors are in excellent form and Pitt's performance needs to be seen to believe.
There are wonderful interludes before returning to the main love story. As Daisy goes off to become a dancer, Benjamin in his 20s/60s works on a tug boat that eventually is recruited for duty in World War II. His captain is played in by the wonderfully over-the-top and funny Jared Harris ("Igby Goes Down").
In a nice sequence Benjamin has a short affair with a married woman (Tilda Swinton, "Michael Clayton") in London. There's a lovely sequence set in France that plays like a self-contained short film on chance. There are strong, affecting performances from Jason Flemying ("Stardust") as Benjamin's father and Taraji P. Henson ("Talk to Me") as Benjamin's adopted mother.
On a technical level, the film is nothing short of astounding. The aging process for both Pitt and Blanchett is wholly convincing. For Pitt, in the early scenes, it is a seamless combination of computer enhanced visuals and make up. Not only does Pitt look 80, but he looks to be less than 5 feet tall. There's never a moment you doubt it.
The director is David Fincher whose work, which includes, "Seven," "Fight Club," "Panic Room" and "Zodiac," has always been visually compelling. This is his most ambitious project in terms of sheer scope and he delivers.
His detractors often accuse Fincher of relying to heavily on overly stylized visuals. In the past, he experimented with different visual trickery and he still is in "Benjamin Button," but now it is less obvious and more subtle. The film begins in 1918 and goes on up through 2003. The period detail throughout always seem spot on.
The cinematography by Claudio Miranda paired with the art direction by Kelley Curley, Randy Moore and Tom Reta is often breathtakingly beautiful. Visuals like a sunset on a peer leave a lasting impression in the mind.
The film isn't perfect. There's a story frame involving Daisy's daughter (Julia Ormond) reading Benjamin's memoir to her mother on her deathbed. This is fine, but the detail that Hurricane Katrina is bearing down on the hospital feels unnecessary.
Some have complained that there is nothing to the Benjamin character beyond the extraordinary circumstances of his life. Benjamin seems content to just wait for the time when he can be with Daisy. It is a sad, but hopeful tale in many respects and in the end that's what rings most true.