This week students headed back to school. In their honor, let's look at that hallowed genre: the teen movie. Such films are typically coming-of-age stories centered on first love and/or the pursuit of a good time. Here are 10 teen favorites.
"American Graffiti" (1973)
A group of high school graduates enjoys one last night of cruising before heading off to college in perhaps the first modern teen film. The film was co-written and directed by a pre-"Star Wars" George Lucas and starred such soon-to-big names as Richard Dreyfuss, Harrison Ford and Ron Howard. Set 10 years earlier, the film was already a nostalgic piece when released, but its portrayal of that nebulous time between high school and college remains funny and relevant.
"Rock 'n' Roll High School" (1979)
Riff Randell (P.J. Sole) loves The Ramones. Her life will be complete if she can see them in concert and hear them perform the song she's written for them. Not only does she get her wish, she also convinces the band to take over her school in true punk rock fashion. This rock musical has a loopy, kitsch sense of humor and is actually quite education. Did you know that rock music can make mice explode? You learn something new everyday.
"Fast Times at Ridgemont High" (1982)
Cameron Crowe, at the time a writer for Rolling Stone, went undercover as a high school student to write an expose on teen life. Crowe's screenplay would provide plenty of crude laughs, but it also addressed serious issues such as abortion in a realistic manner, making it a cut above most of its kind. All that aside, it is Sean Penn as the definitive stoner Jeff Spicoli and the notorious Phoebe Cates pool scene that makes this a classic.
"The Breakfast Club" (1985)
This John Hughes film is the perennial teen movie. It should probably be required viewing for every high school freshman. Five students from different cliques are forced to spend Saturday detention together and in the process learn that they were "brainwashed" into hating each other. The film is hilarious and perceptive with iconic performances from Emilio Estevez, Judd Nelson, Anthony Michael Hall, Molly Ringwald and Ally Sheedy.
"Ferris Buller's Day Off" (1986)
Another Hughes mainstay with a never-more-charming Matthew Broderick skipping school with his best friend (Alan Ruck) and girlfriend (Mia Sara) for a day of adventure in Chicago. Full of classic bits from the keyboard that plays coughs, to Ben Stein's economic teacher, to the "Twist and Shout" parade scene. And of course there's that Ferrari. Oh yeah.
"Say Anything…" (1989)
After the success of "Fast Times," Crowe returned as writer and director to the teen genre and came up with one of the sweetest, most genuine film romances ever. John Cusack stars as the ultimate nice guy, who asks out the valedictorian of his class. The film is remembered most for the infamous "In Your Eyes" boom box serenade, but it has so much more to offer. Crowe's dialogue is full of knowing laughs and feels honest, natural and smart.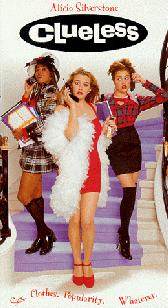 "Clueless" (1995)
This loose teen updating of Jane Austin's "Emma," shifts the setting to Los Angeles and puts the reins of the story in the hands of cheery, fashion savvy rich girl Cher (Alicia Silverstone). Writer/director Amy Heckerling, helmed Crowe's script for "Fast Times," but her own writing proves to be just as perceptive about teens. Silverstone, who never matched her work here again, is spot on, as is the rest of the cast which includes Paul Rudd, Brittney Murphy and Donald Faison ("Scrubs").
"American Pie" (1999)
The premise of a group of high school guys making a pledge to lose their virginity by prom is hardly original and has spawned too many bad so called comedies to count. But This wasn't just another "Porky's," in spite of the very crude humor — you'll have a hard time thinking of apple pie and band camp the same way — there was a lot of surprising heart. Plus Eugene Levy is fantastically awkward as Jason Bigg's well-intentioned father.
"Mean Girls" (2004)
In many respects this a PG-13 version of 1989's similarly themed "Heathers," but that doesn't make this film any less sharp with its satire of high school cliques. Tina Fey's script is full of pointed observations that add an extra sting to the laughs. Lindsey Lohan is sent into the vapid "Plastics" clique as a mole only to become one herself. Everyone in the cast is excellent, especially Lohan, Rachel McAdams as the head Plastic, Fey as a math teacher and Tim Meadows as the principal.
"Superbad" (2007)
A couple of friends (Jonah Hill and Michael Cera) spend one of their last nights together before going off to college desperately trying to score alcohol in hopes of maybe getting lucky. Like "American Pie," the film avoids having its material turn sour, because the raunchy script by Seth Rogan and Evan Goldberg allows for an unexpected sweetness to seep in. You genuinely care about these characters by the film's end. Of course there's also Christopher Mintz-Plasse's instant classic portrayal of Fogell AKA McLovin.