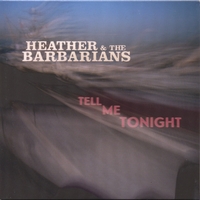 Most people don't get their big break in a bathroom, but then again Heather Masse is not most people.
When Masse graduated from Fryeburg Academy in 2000 she seemed destined to be a successful singer. A major presence in the music department, Masse won the best female vocalist award at Berklee in 1997, 1999 and 2000 and won the best female vocalist award at the Maine State vocal jazz competition in 1998, 1999 and 2000.
Nearly eight years later Masse is making good on the promise she showcased in her years at the academy. Now not only is Masse the leader of her own band, Heather and the Barbarians, who are performing at One Longfellow Square in Portland at 8 p.m. Jan. 20, she is also part of the successful trio The Wailin' Jennys.
Like most aspiring musicians Masse headed to New York, but before hand she spent a couple years in Boston working with Alzheimer's patients. While she loved the work she felt she needed to really give her music career a chance.
Masse was working as a nanny and playing music in New York when she got a call about an opportunity with the Wailin' Jennys from Aoife O'Donovan, a friend from her years at the New England Conservatory.
"I've known Aoife for a while through the self music, rich music circuit," said Wailin' Jennys member Ruth Moody. "She was one of the first people I called when we needed a new member because I thought she'd know great singers and she said, 'I have the perfect person in mind.' She said hands down she's your gal."
That gal was Masse, who caught up with band members in Pennsylvania to see one of their shows and see how she liked them.
"We only had about 10 minutes and we couldn't find anywhere to do it except the handicapped women's washroom, restroom, bathroom, whatever you call it," said Moody. "We locked ourselves in there and sang a few tunes. We just knew right away she had such a rich alto voice and it was just perfect."
After finishing that tour, The Wailin' Jennys gave Masse a call and invited her up to Winnipeg, the home base of the group, to see how the collaboration worked. And it did indeed work.
"I could tell right away that she was a lovely person and a kindred spirit," said Moody. "She just integrated immediately. It sounds like a fairy tale, and in a sense it feels that way. She was exactly what Nicky (Mehta) and I were looking for. She fit right in personality-wise and musically brought some new, interesting approaches and flavors to the sound."
Her time with the Jennys has sent Masse all across the country and has afforded her the opportunity to perform on the NPR staple "Prairie Home Companion."
"We did it in Wolf Trap, Virginia, and it is this awesome outdoor stadium," said Masse. "There were about 5,000 people in the audience and then on top of that there are 5 million people listening at home and it is live broadcast so there is so much pressure. But just the vibe of the staff of 'Prairie Home Companion,' there are all just such good people."
The Wailin' Jennys were regulars on the program, and, while the two veteran Jennys knew the routine, Moody said Masse fit perfectly into the scene.
"When we did our first 'Prairie Home Companion' show with Heather, she fit right into that situation so perfectly and naturally that by the end of the show she was doing a duet with (host) Garrison (Keller) on 'You Are My Sunshine.'"
Masse spent much of 2007 touring with the Wailin' Jennys across the states, Canada as well as Scotland and England. There was a small window of opportunity before their next tour, so Masse put together a mini-tour for Heather and the Barbarians.
"Since we (The Wailin' Jennys) played Stone Mountain a couple months ago and it got sold out, they said they could've done two shows, a bunch of people weren't able to get to the show, so hopefully a bunch of that crowd can come out to Portland," said Masse.
Masse is excited to hit the road with her own band, if only briefly.
"It'll be fun to really get into it and really get a feel and rhythm playing every night with that band. I'm excited about it," said Masse.
Heather and the Barbarians formed in Boston while Masse was at New England Conservatory.
"We started out playing more artsy/jazzy stuff," said the Barbarians' guitarist Ben MacDonald. "Due to everybody's busy schedules we have not been able to play or rehearse regularly. Our evolution has been gradual and I think organic one over the past few years."
The band is more than just the typical guitar, bass and drum scenario and is enriched by two saxophone players who also double on the clarinet and bass clarinet. The sound is an eclectic, genre-jumping mix of jazz, blues, pop and rock.
"It is hard to say exactly how we work," said MacDonald. "It is almost as though it doesn't take much work at all. All the musicians are so versatile and competent, added to that is the fact that we have known and played with each other for almost five years. We have a good group sense of how things will work out and what needs to happen when."
In addition to The Wailin' Jennys and Heather and the Barbarians, Masse has played with numerous other groups over the years including the bluegrass band Kill Joy Sorrow. Masse did a Boston to Minnesota road tour with the Kill Joy Sorrow a couple summers ago. The July tour had the five band members (and Masse's dog Jasper) crammed into a Subaru Legacy with a broken air conditioner.
"It was a really fun time," said Masse. "It is sort of the other extreme of touring with the Jennys. We always get our own hotel room and we fly everywhere, but it was fun to have that other experience, too, because you actually get to see places and people more than you do with the Jennys. Like some days we have a day off in a city, but mostly we go somewhere and play the gig, go to sleep, wake up and then have to travel and have to go the next place."
Even though the touring can be trying, Masse makes a point before every show of reminding herself why she is doing what she does and what she is trying to give to an audience. The answers to those questions give her the strength to go on with the show.
"I want to bring joy and peace and happiness and opening to people. Music has that kind of affect on people, especially with the Jennys, They write a lot of songs about peace," said Masse. "That's kind of nice for me because when I graduated Fryeburg I wasn't sure I wanted to go into music because I really enjoy being with people and helping people and that's why I really enjoyed working with Alzheimer's patients. But with the Jennys it is sort of a nice balance where I am performing and singing to an audience, but it also feels like I am helping them in some way."
Masse, who says the fact that she is part of the Jennys has given her opportunities she wouldn't have had otherwise, is still adjusting to the idea that she is actually working as a musician.
"I'm still getting use to the fact that when I am home from a tour and have two weeks off that I don't have to work a day job," she said. "This has never happened before where I have two weeks off or three weeks off and I don't have any other commitments other than to rest and practice."
Masse will be hooking back up with the Jennys after her tour with the Barbarians to head back on the road. The group will be bouncing around the country from Alaska to Florida and everywhere in between until September. Beyond that, Masse isn't sure what is in store for her.
"I sort of live by the moment," Masse said. "I'm not such a great planner, but things have been working out by living my life that way, by seeing what opportunities come up and taking them when I can."